Relapse - Loader / Boot sectors / Fast Menu / Putting together
---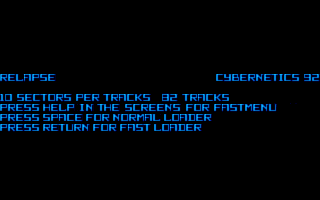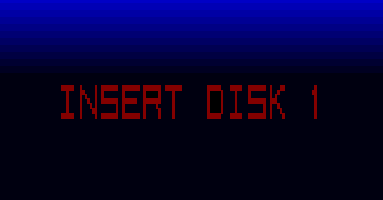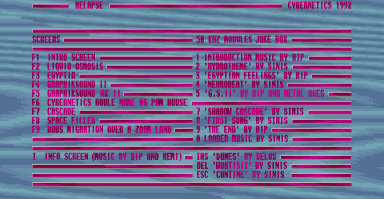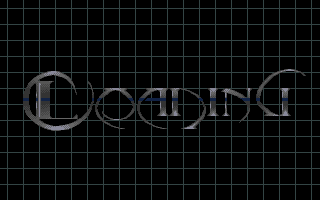 ---
Details
Loader

Background grid zooms and unzooms while loading and depacking
Depacking is done at 16mhz on Mega STe machines
The soundtrack is a great adaptation by Sinis of a musik by Eric Sera from the film "Nikita". It is played at 12,5kHz oversampled at 25kHz.
Too bad the FDC routines do not work fully with interuptions, loading process would have be faster.
Disk 2 & 3 bootsector

The executable boot sector on disk 2 & 3 displays an endless zooming message drawn with the blitter "Insert disk 1".
In the upper part of the screen a little color gradient is done changing the background color during VBL.
Code size for this little effect is 508 bytes : the whole code & data fit into the boot sector (510 max).
Fast menu

Quite unusual in demos, this menu runs in 640x200x4 (medium resolution). The intrinsic lack of colors of this graphic mode is compensated by the use of a plasma routine changing two colors at a time (background and text colors). On the other side this "80 columns" mode offers a better resolution for texts.
Plasma uses the technique of blitter plasma (uses blitter to change colors) with code generation to compensate Mega STE blitter cycles differences.
We have intentionally de-synchronized the plasma routine because it gives better movement effects
Credits
Loader

Code : METAL AGES - POSITRONIC - PIPOZOR (FDC routines)
Graphix : BRAIN BLASTER - METAL AGES
Musik : SINIS

Bootsectors

Code : METAL AGES
Graphix : METAL AGES

Fast menu

Code : KRAG & METAL AGES (optimisations)
Graphix : METAL AGES

Putting together

Code : METAL AGES
Data management : METAL AGES